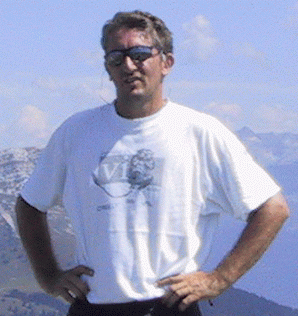 Daniel Veillard
French coder in Xiamen, China

Working for Red Hat E-Mail: daniel@veillard.com

IRC: nick DV on irc://irc.gnome.org/#gnomefr or irc://irc.gnome.org/#xml

I am trying to keep a diary on advogato

In any legal system that you take seriously, coerced judgments are considered invalid, but in the international affairs conducted by the powerful, coerced judgments are fine - they are called diplomacy.
       Noam Chomsky, March 21 2003

Your lips move, but I can't hear what you say.
       Pink Floyd, Comfortably Numb, The Wall

I am working for Red Hat, and used to work at the World Wide Web Consortium (W3C). I'm based in Grenoble France and working primarily on the virtualization aspects of linux and the libvirt library. When time permits I still work on XML especially libxml2/libxslt maintenance. This page used to be hosted on rpmfind.net a rather large Linux FTP/Web server, this keeps me busy but this is fun too. The key points of my involvement in the Linux and Free software world are as follow:

I usually help anybody willing to reuse my code, I also made the software licence for the code I produce friendly to the computer industry as a whole, and in general do as much as I can to promote and help the use of Open Source Software.

I use Linux on a regular basis (this server runs on a Linux box) and try to promote the use of this excellent and free Unix reimplementation. I am somewhat proud of having started using Linux in it's very early stage (0.12). Following the growth of this free software project was amazing and still make me dream of a better (computing) world. Working for Red Hat allows me to fullfill both my Linux advocacy needs and being paid to work on Linux free software.

I try as much as possible to develop only free software but I'm rather agnostic about how it's called and I appreciate loose licences like the MIT Licence:
The libvirt library, a C toolkit to manage the virtualization capabilities of recent versions of Linux (and other OSes), sponsored by Red Hat this is my main area of work for the last few years.
An XML parser <-> document tree written in pure C (no lex/yacc) initially used to validate WebDav spec examples.. It has been integrated in GNOME and I'm still trying to improve it and add a DOM interface. Among the functionnalities available are SAX, DOM, validation, external entities support, XPath, XPointer, HTML support, etc... While developped and mainly used under Linux, it should be fairly portable.You can find RPMs, it's called libxml2, or you can download the source archive. There is copy of the documenatation on-line, and a mailing-list with archives (old ones). The autogenerated (through gtk-doc + jade) docs are available on-line too.
An XSLT processor, based on libxml2 and written in C too, it is complete now, relatively fast and conformant.
I have written mostly complete Python wrappers for libxml and libxslt, althrough they would still need a bit of glue to give them a more mative Python feeeling those should be pretty stable and maintain the speed advantage of the underlying C libraries.
rpm2html : extract meta-informations from RPM software packages and dump it to HTML pages.
rpmfind : a tool using metadata to allow the automatic lookup/upgrade and download of RPM packages. Uses XML, RDF and HTTP for the data exchanges. Rpmfind and rpm2html are included in the RedHat distribution :-)
For memory debugging of C code, I rely on the memory wrapper of libxml2 and valgrind for heavy duty memory corruption checking and debugging.
For general purpose editing I use VIm, the VI syntax is really hard but fast and now so deeply engraved in my typing habbits I don't think I would be able to switch.
I got the crazy idea (some time ago) that an HTTP filesystem for linux could be a good idea. Once WebDav is widely available (i.e. as soon as it will be a "default" Apache module) this will be simple. Well it seems this time is coming, apache-2.0 embedd Greg Stein mod_dav module by default and at the UI level it seems that the Gnome graphical shell Nautilus has WebDav support and will be able to handle the filesystem metadata !
I used to serve on the board of the GNOME Foundation, elected in 2000, re-elected in 2001 and 2002 and 2004 (assuming I remember correctly).
You can read more about me from a GNOME perspective in the on-line interview done by Steve George for the GNOME web site.
I used to be co-chair of the XML Linking working group and worked to get XPointer, XML Base and XLink specifications finished, succeeded for XLink and XML Base, but not XPointer.
I am still part of the W3C XML Core Working Group as Invited Expert, mostly due to my work on libxml2 and my knowledge of the W3C background and process.
Public talks and presentations:
You can find here some of the talks I gave in the last few years (using the W3C slidemaker tool):
I used to help manage a student project (wich consists of building a realtime systeme on bare PCs -- this used to be MVME 162 Motorola cards) at the ENSIMAG in collaboration with Bernard Cassagne (Bernard.Cassagne@imag.fr). I obtained a Ph.D. from the University of Grenoble. The dissertation was about the design and the implementation of a portable and efficient multicast protocol for Ethernet LANs. I used to work on Amaya especially CSS support and Amaya-Java.
I enjoy playing badminton, cooking and writing code, as well as sailing and snorkeling when I have the opportunity ! I had a fantastic cat.
My public key for "Daniel Veillard <Daniel.Veillard@w3.org>"
-----BEGIN PGP PUBLIC KEY BLOCK-----
Version: GnuPG v1.0.1 (GNU/Linux)
Comment: For info see http://www.gnupg.org

mQGiBDfqVDgRBADBKr3Bl6PO8BQ0H8sJoD6p9U7Yyl7pjtZqioviPwXP+DCWd4u8
HQzcxAZ57m8ssA1LK1Fx93coJhDzM130+p5BG9mYSWShLabR3N1KXdXQYYcowTOM
GxdwYRGr1Spw8QydLhjVfU1VSl4xt6bupPbWJbyjkg5Z3P7BlUOUJmrx3wCgobNV
EDGaWYJcch5z5B1of/41G8kEAKii6q7Gu/vhXXnLS6m15oNnPVybyngiw/23dKjS
ZVG7rKANEK2mxg1VB+vc/uUc4k49UxJJfCZg1gu1sPFV3GSa+Y/7jsiLktQvCiLP
lncQt1dV+ENmHR5BdIDPWDzKBVbgWnSDnqQ6KrZ7T6AlZ74VMpjGxxkWU6vV2xsW
XCLPA/9P/vtImA8CZN3jxGgtK5GGtDNJ/cMhhuv5tnfwFg4b/VGo2Jr8mhLUqoIb
E6zeGAmZbUpdckDco8D5fiFmqTf5+++pCEpJLJkkzel/32N2w4qzPrcRMCiBURES
PjCLd4Y5rPoU8E4kOHc/4BuHN903tiCsCPloCrWsQZ7UdxfQ5LQiUmVkIEhhdCwg
SW5jIDxzZWN1cml0eUByZWRoYXQuY29tPohVBBMRAgAVBQI36lQ4AwsKAwMVAwID
FgIBAheAAAoJECGRgM3bQqYOsBQAnRVtg7B25Hm11PHcpa8FpeddKiq2AJ9aO8sB
XmLDmPOEFI75mpTrKYHF6rkCDQQ36lRyEAgAokgI2xJ+3bZsk8jRA8ORIX8DH05U
lMH27qFYzLbT6npXwXYIOtVn0K2/iMDj+oEB1Aa2au4OnddYaLWp06v3d+XyS0t+
5ab2ZfIQzdh7wCwxqRkzR+/H5TLYbMG+hvtTdylfqIX0WEfoOXMtWEGSVwyUsnM3
Jy3LOi48rQQSCKtCAUdV20FoIGWhwnb/gHU1BnmES6UdQujFBE6EANqPhp0coYoI
hHJ2oIO8ujQItvvNaU88j/s/izQv5e7MXOgVSjKe/WX3s2JtB/tW7utpy12wh1J+
JsFdbLV/t8CozUTpJgx5mVA3RKlxjTA+On+1IEUWioB+iVfT7Ov/0kcAzwADBQf9
E4SKCWRand8K0XloMYgmipxMhJNnWDMLkokvbMNTUoNpSfRoQJ9EheXDxwMpTPwK
ti/PYrrL2J11P2ed0x7zm8v3gLrY0cue1iSba+8glY+p31ZPOr5ogaJw7ZARgoS8
BwjyRymXQp+8Dete0TELKOL2/itDOPGHW07SsVWOR6cmX4VlRRcWB5KejaNvdrE5
4XFtOd04NMgWI63uqZc4zkRa+kwEZtmbz3tHSdRCCE+Y7YVP6IUf/w6YPQFQriWY
FiA6fD10eB+BlIUqIw80VgjsBKmCwvKkn4jg8kibXgj4/TzQSx77uYokw1EqQ2wk
OZoaEtcubsNMquuLCMWijYhGBBgRAgAGBQI36lRyAAoJECGRgM3bQqYOhyYAnj7h
VDY/FJAGqmtZpwVp9IlitW5tAJ4xQApr/jNFZCTksnI+4O1765F7tJkBogQ5NRH0
EQQAjGELFNSzLN+6jjDCYU5H8m+Wq7j2qbvCAjUeJDZN+o0/5Xe6Df9MbajP3tkv
VTswHdeuTznhKG8U1zdt+DDoY+jzPbiTToAKtTdZNXloRqVcNhyGLG+NAR4ClX/Z
na7+9++S9fEm/Kr9wnAYSXyvKFtGb9qHq7lhQ6bDK/VC8ccAoJo2qbg6yQ2TexxL
TgnDxfAqDUxvA/sHnRmyi714OjROVMq5Fd6n2MKz2ovOBLD2NVWlnphfoT3IfteK
9AlCDlQA1/Ox2iAbE5hmf7uirPWWAC1WW8I0HMjaezD+GZryKXx13cYCyfvQ2yrO
sk5YANZqFEhEcnxqv5DAvZ6t3VWIJmJscUbjvP3lSrn70rZ8YSK/2r96NwP9E+P4
T109jeFgqb6QsSgyD8vf6al3GI0hFW0tZX2D+s38TQysLhdo+IEVprpyZz6MCBsd
PmYZdXXOvAekDoManpyTZDW0ilFJttzJc0nk+s8sgCXF1v//88We7e2KuC/fl+hU
LSfA+5G3AfzUL/d1KmSp1KZQ/t+W/8TOsz+lKnq0KERhbmllbCBWZWlsbGFyZCA8
RGFuaWVsLlZlaWxsYXJkQHczLm9yZz6IVgQTEQIAFgUCOTUR9AQLCgQDAxUDAgMW
AgECF4AACgkQRga4pd6VvB8o2ACdG4N7mRwPv3/e+ELSNFRPtLikaQwAn05E3ssv
cskczjksz3KMi7rxQ67uuQENBDk1EfwQBADqtpQ5K8cU0bjaLa1XjQFESn57GRc2
dNcpLqaJNS1M2O+7mLRUMMeuQ/K9ozwgtGeDeO9F0OGG/+1VyUclnsnKUT//jlr/
Vdrl+XcmTy80NbmDLU8TCMAUFBSDfvkxuB4inDARH71zpS2wAzFi/ajTc4gPKrtw
uklCjenYbQ4hRwADBQQAwbJvuA0TWvJqjekz0qAr7+LCwCCVoBCbxZ38B2wBE4fp
bLV3BDZBx5wnib198TUyEJFCj//xUUYcUdLYLbgwOyc5UiARWdZsQhUzOnm8V8L6
QgXtGv2ercGCvjAejrL7bTgYXVRzevcJvYWfthaaTU2dUnq156WUOzFP7sy98z+I
RgQYEQIABgUCOTUR/AAKCRBGBril3pW8HzrDAJ48v66qkzGGLR2mH2C7SFw0y4OY
SACghuQ7BYTNAlVFM7fTlvOUhgA69SI=
=kFtR
-----END PGP PUBLIC KEY BLOCK-----